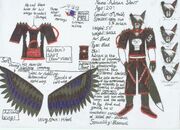 Adrian Starr was a former experiment at Pelvanida. He swooped in at random and flew Rudyard Shelton and James Zanasiu to safety when the two were in the blast radius of the soon-to-detonate Einstein-Rosen bridge. After he put them down, he flew off and was never seen again. (Darwin's Soldiers)
Adrian Starr is the fursona of StarfallRaptor, the author who played him.
His line calling himself a "former experiment" is the only reference to a possibility that experiments get to leave Pelvanida at some point.
Ad blocker interference detected!
Wikia is a free-to-use site that makes money from advertising. We have a modified experience for viewers using ad blockers

Wikia is not accessible if you've made further modifications. Remove the custom ad blocker rule(s) and the page will load as expected.